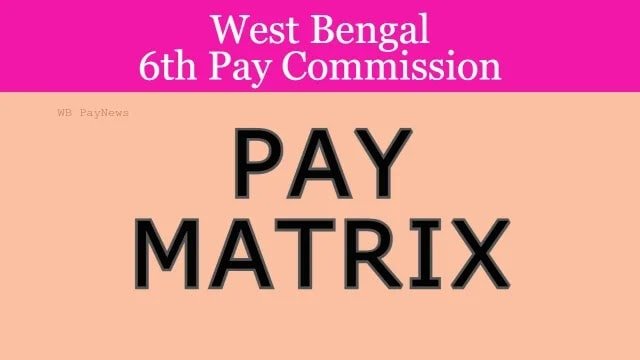 WB ROPA 2019 PAY MATRIX
With the implementation of WB ROPA 2019, The Sixth Pay Commission West Bengal has come into force from 1 January 2016. Salary as per 6th Pay is being paid regularly from 1st January 2020. By abolishing Band Pay and Grade Pay system it introduces Pay Levels.
Levels under ROPA 2019 (Revision of Pay and Allowances 2019)
There are 24 Levels from Level 1 to Level 24 in schedule-I of WB ROPA 2019 Pay Matrix Table. Ten more Levels in schedule-II categorized for higher initial pay entry like Level 10C or Level 12B. For each existing Grade Pay in 5th Pay Commission pay structure, there are a particular Pay Level in the Pay Matrix.
Calculation of Revised Pay in WB ROPA 2019
The existing Basic Pay under 5th Pay Commission is actually the sum of Band Pay and Grade Pay. Now the revised pay is calculated after multiplying the existing basic pay by 2.57. The figure so arrived at will be located in that particular level in the Pay Matrix Table of ROPA 2019.
If such an identical figure corresponds to any Cell in the applicable Level, the same shall be the revised pay.
In case, no such cell is available at the applicable level, the revised pay shall be fixed at the immediate next higher cell of that Level of the Pay Matrix.
Pay Matrix Table
Pay Levels
What is the minimum Pay in ROPA 2019?
After the recommendation of the 6th Pay Commission West Bengal, the minimum Basic Pay of an employee under the Govt of WB is Rs. 17000/-. As per the ROPA Pay Matrix Entry Pay in Level 1 that is the initial pay of the Level is 17000.
How to calculate Increment in ROPA 2019?
find the Pay Level column in the pay matrix table
search the present Basic in the Pay Matrix in that particular column of Pay Level.
the amount in the immediate next higher cell in the same column (go down vertically by one cell) will be the Basic Pay after increment.
More details below:
Calculate Increment in Revised Pay ROPA 2019
For more related queries please do comment in the comment section. Thanks for visiting the page.