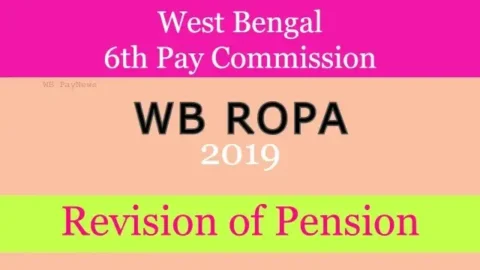 ROPA 2019 for Pensioners
On the basis of the recommendations of the 6th Pay Commission of West Bengal, Finance Pension Branch issued revision of pension Rules dated 01.10.2019 under G.O. number 535–F(Pen) and 536–F(Pen).
The notional effective date for WB ROPA Rules is 01.01.2016. The Pensioners who got retirement on or after January 2016 are to follow guidelines mentioned in order number 535-F and for others 536-F.
Related Post

Revision of Pension of pre-01.01.2016 Pensioners
ROPA 2019 for Pension Synopsis
Revision of Pension and Family Pension
Minimum monthly Family Pension raised from Rs. 3300/- to Rs. 8500/-. On the other hand, The maximum monthly pension has been revised to Rs. 100500/- from Rs. 35000/-.
The ceiling of Death Gratuity and Retiring Gratuity has been fixed at Rs. 1200000. Previously it was 600000 as per order number 201‐F(Pen), dated 25.02.2009.
Commutation of Pension in ROPA 2019
Pensioners retired on superannuation between 01.012016 and 01.012020 can opt to commute further amount entitled for revision. If you are a pensioner and retired from services after 01.01.2016 but before 01.01.2020, you can commute up to 40% of Basic Pension (Revised). Therefore you can freshly commute further the difference amount between 40% of Revised Pension and the amount already commuted.
Download Pension Calculator from Playstore
Short Preview of ROPA 2019 for Pension
Revision of pension / family pension, gratuity and commutation of pension of post 01.01.2016 pensioners.
The undersigned is directed to state that the question of modification of rules granting pensionary

benefits to the State Government employees consequent on the revision of pay structure under the West

Bengal Services (Revision of Pay and Allowance) Rules, 2019 has been under consideration of the

Government.

After careful consideration of the matter, the Governor has been pleased to decide that the

pensionary benefits in respect of the State Government employees who retire after coming into force of

the West Bengal Services (Revision of Pay and Allowance) Rules, 2019 and whose pay has been fixed

under the said rules
Revision of Pension Orders