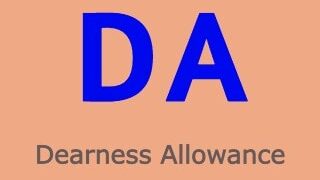 List of Dearness Allowance Rates
Find here the list of Dearness allowances announced from time to time by the Government of West Bengal till 2022. DA is the short form of Dearness Allowance, a part of an employee's Gross salary.
West Bengal Employees DA Chart
After implementation of the 6th Pay Commission from 01.01.2020, West Bengal employees received the first installment of dearness allowance (DA) at 3% with effect from 01.01.2021 G.O. number 78-F(P2) dated 08.01.2021.
Find below the DA rate chart table from 1987 till date for WB employees.
DA Rate Chart | Dearness Allowance Rate List Table
Order No. and date
Effective Date
D.A. Rate
3360-F & 3367-F dt. 04.04.1987
01-03-1987
4%
12890-F dt. 28-11-1987
01-12-1987
8%
5690-F dt.17-05-1988
01-06-1988
13%
610-F dt.17-01-1989
01-02-1989
18%
5619-F dt. 20-05-1989
01-06-1989
23%
11560-F dt. 20-10-1989
01-11-1989
29%
5075-F dt. 24-05-1990
01-06-1990
34%
11715-F dt. 22-11-1990
01-12-1990
38%
2880-F dt. 26-03-1991
01-04-1991
43%
11210-F dt. 05-12-1991
01-01-1992
51%
10485-F dt. 14-10-1992
01-11-1992
60%
7801-F dt. 02-07-1993
01-07-1993
71%
12550-F dt. 26-11-1993
01-12-1993
83%
4130-F dt. 12-04-1994
01-05-1994
92%
10410-F dt. 28-10-1994
01-11-1994
97%
975-F dt. 31-01-1995
01-02-1995
104%
5733-F dt. 01-06-1995
01-06-1995
114%
11200-F dt. 13-11-1995
01-12-1995
125%
955-F dt. 29-11-1995
01-12-1995
Rs. 100/- (I.R)
2675-F dt.08-03-1996
01-04-1996
136%
7756-F dt. 27-08-1996
01-10-1996
148%
2896-F dt. 27-03-1997
01-04-1997
(I.R. 10% or min Rs. 100/-)
6695-F dt. 25-07-1997
01-08-1997
159%
10705-F dt. 10-12-1997
01-12-1997
170%
2590-F dt. 02-04-1998
01-04-1998
182.4%
ROPA 1998 (7306-F dt 16.10.1998)
7308-F dt. 16-10-1998
01-04-1997
NIL
Do
01-08-1997
4%
Do
01-12-1997
8%
Do
01-04-1998
13%
Do
01-11-1998
22%
7285-F dt. 26-07-1999
01-08-1999
32%
3230-F dt 04-04-2000
01-04-2000
37%
7640-F dt. 06-09-2000
01-10-2000
38%
6110-F dt. 27-06-2001
01-07-2001
41%
6815-F dt. 27-06-2003
01-07-2003
45%
7848-F dt. 12-08-2004
01-09-2004
49%
3134-F dt.04-04-2005
01-04-2005
52%
7390-F dt 19-08-2005
01-09-2005
55%
9110-F dt. 11-11-2005
01-12-2005
59%
1699-F dt. 27.02.2006
01.03.2006
61%
4760-F dt. 27.06.2006
01.07.2006
64%
6568-F dt. 01.09.2006
01.09.2006
67%
1-F dt. 02-01-2007
01.01.2007
71%
2415-F dt. 27-03-2007
01.04.2007
50% Merger of D.A
2416-F dt. 27-03-2007
01.04.2007
24% D.A (BP+DP)
13-F dt 01.01.2008
01.01.2008
29% D.A (BP+DP)
4236-F dt 12.06.2008
01.06.2008
35% D.A (BP+DP)
8195-F dt. 04.11.2008
01.11.2008
41% D.A (BP+DP)
1370-F dt. 12.02.2009
01.03.2009
47% D.A (BP+DP)
ROPA 2009 (1690-F dt. 23.02.2009)
1692-F dt. 23.02.2009
01.04.2008
2%
-Do-
01.06.2008
6%
-Do-
01.11.2008
9%
-Do-
01.03.2009
12%
-Do-
01.04.2009
16%
10301-F dt. 03.12.2009
01.12.2009
22%
2580-F dt. 09.04.2010
01.04.2010
27%
10850-F dt. 23.11.2010
01.12.2010
35%
11080-F dt. 12.12.2011
01.01.2012
45%
10615-F dt. 31.12.2012
01.01.2013
52%
8840-F dt. 16.12.2013
01.01.2014
58%
143-F dt. 09.01.2015
01.01.2015
65%
8430-F dt. 14.12.2015
01.01.2016
75%
18-F dt. 02.01.2017
01.01.2017
85%
5724-F dt. 12.09.2017
01.01.2018
100%
4037-F dt. 21.06.2018
01.01.2019
125%
ROPA 2019 (5562–F, Dt 25-09-2019)
78-F(P2) dt. 08.01.2021
01.01.2021
3%
850-F(P2) Dated 24.02.2023
01.03.2023
6%